Courtesy of Pam Martens.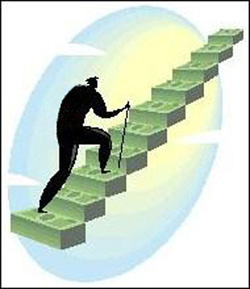 The books coming out about Wall Street today reflect an incremental change in attitude: in the late 80s, it was a pack of phone throwing liars; by the 90s, they were thieves; today, devils. 
Liar's Poker by Michael Lewis, Den of Thieves by James B. Stewart, All the Devils Are Here by Bethany McLean and Joe Nocera, show an evolution in sophistication of crime on Wall Street. While the public may not be able to recite the precise underpinnings of each securitized, high frequentized, internalized crime, it is now accepted wisdom that pigs, liars, thieves and devils inhabit much of Wall Street. 
Not surprisingly, this perception has led to an exodus of people willing to turn over their hard-earned life savings to the gluttonous crowd.  An old saying on Wall Street was "where are the customers' yachts."  Today, it's "where are the customers." 
That makes it all the more remarkable that Wall Street is still able to attract highly educated summer interns.  We got a little window of light into the mental processes of the summer intern in a piece this past week by Kevin Roose at New York Magazine.   Here is what was on this young man's mind: 
"For me, it's weird. Like, having a black car take me home every night, having a $25 meal delivered to my desk. That's over the top. But eventually, you start to expect more. You're definitely seduced. You think, If I did this for two years, went to private equity, did the stair-step path that everyone does, I'd never have to think about money again." 
But there is always the chance that the young graduate will have buyers' remorse by age 33. 
…