Courtesy of ZeroHedge. View original post here.
Submitted by RickAckerman.
What kind of batter crowds the plate after a pitcher has aimed a fastball at his head? "Batters" have been doing it routinely on Wall Street lately — most recently yesterday, when they held the broad averages buoyant while Google shares were getting pasted for 80 points. During this single-stock onslaught, the Dow Industrials were never down more than 50 points and closed off only slightly with GOOG still $53 in the hole. This wasn't the first time bulls have leaned into the plate while "dusters" whizzed past their ears. A day earlier, they pushed the blue chip average to a small gain while IBM was getting savaged on earnings that only somewhat exceeded analysts' expectations. Big Blue got schmeissed again yesterday along with Google, but the body blows that sent two corporate giants to the mat evidently weren't enough to unsettle investors.
Invincible Buyers?
If bulls have been acting lately like they're invincible, perhaps it's because they appear to have shrugged off Apple's nasty plunge in the last month. At its recent lows near $624, the stock had shed 11% of its value – a very big hit for portfolio managers, since the company is the world's largest by capitalization. But so what? That seems to be the attitude on The Street, where the lotus-sniffing stewards of Other People's Money have been curiously calm through it all. With three absolutely crucial bellwethers falling from the sky, the Dow currently sits a mere hundred points from new recovery highs.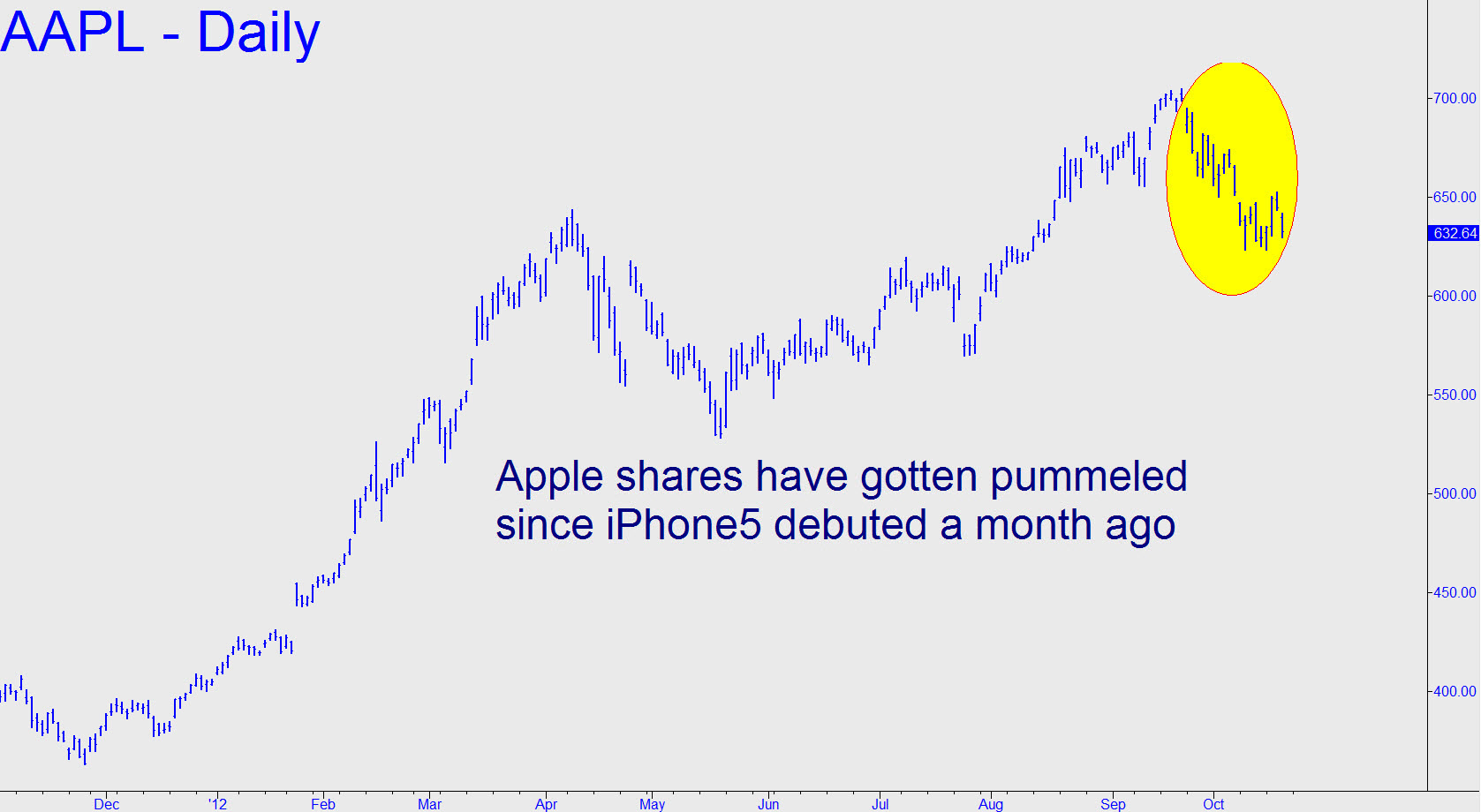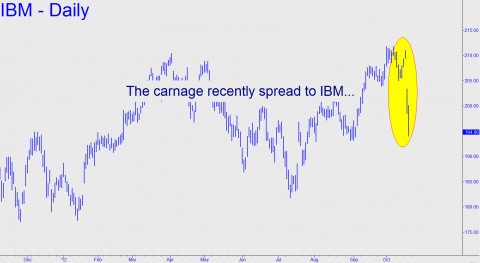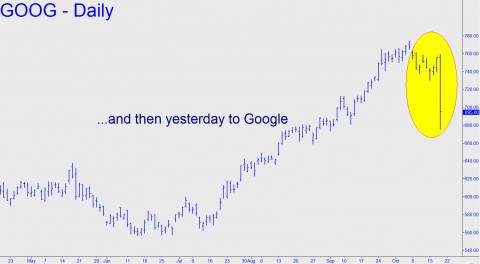 It's tempting to think DaBoyz are trying to fool widows and pensioners into believing things are hunky-dory while they distribute shares to the unwary by the trainload. As we know, however, individual investors deserted the stock market years ago, leaving only sharks to feed on chum limitlessly supplied by the Federal Reserve. Now, with the Dow Average acting as calm as a serial killer strapped to a polygraph, it beggars belief to think the sharks have not yet caught a whiff of blood from the likes of AAPL, IBM and GOOG. When the contagion of these bellwether stocks spreads to the broad averages, which could happen any day, don't think you'll have time to plot your escape. We've now got both feet out the fire-escape window, no longer persuaded by our own, purely technical and still-valid rally target at Dow 14969 that there's a reason to stick around.
***
[Click here for a free trial subscription to Rick's Picks that includes access to a 24/7 chat room and the just-launched 'Harry's Place'.]