From The latest Market Shadows newsletter: A Failure to Communicate: Numbers, Rates & Lies
Courtesy of Lee Adler of the Wall Street Examiner
The October headline seasonally adjusted aggregate Purchasing Managers Index reading of 49.5 fell far short of the consensus expectation of 51.2. I track the not seasonally adjusted ISM Manufacturing New Orders index as the kernel of the measure of manufacturing conditions in the US. It  fell from 61.8 in October to 53.3 in November.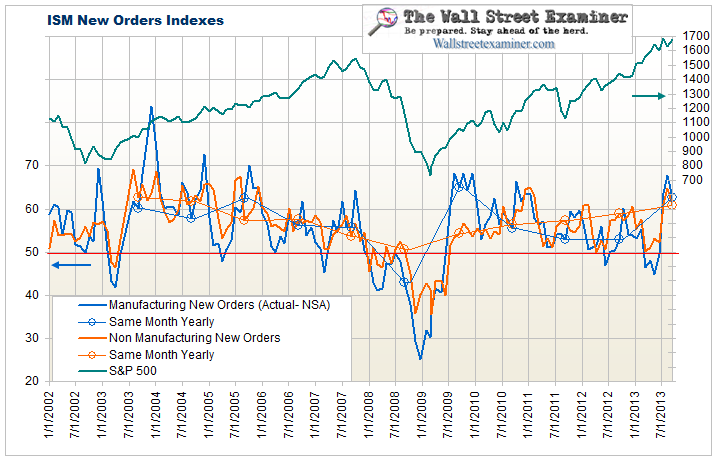 ISM New Orders Index Chart- Click to enlarge
November was a down month in 8 of the past 10 years in the NSA New Orders Index and every year since 2005. The average month to month change over the previous 10 years was -3.3. Last year the reading was -2.6 and in 2010 it was -5.7. In that context this year's decline was not only worse than average, but the worst since November 2007 and 2008, with drops of -8.8 and -8.6 respectively.
The slide that began after the 2009 peak  is continuing. The index is now 5 points lower than last year at this time. This is an acceleration of the previous two Novembers when the year to year decline was around 3 points in both years.  It has bounced back from a low reading of 45.2 in June. That was the same level the index had reached in March 2007, 7 months before that bull market ended. It's impossible to say how long a lead time the indicator may have, if any, before the next bear market.
This index trended lower from 2004 to 2007, while stock prices continued to rise. That was a potential hint that the stock market may have been in a bubble beginning in 2005, since it kept rising while ISM's new orders were slowing. The new orders index briefly went negative in early 2007, but then recovered until October, which is about when the Fed pulled the plug on the System Open Market Account (see below). The index next went negative in January 2008, by which time the market was down for the count.
The manufacturing sector represents about 11% of the economy. The services sector data representing the bulk of the US economy, normally released a few days after the manufacturing data, typically lags the manufacturing index by a month or two although this year it turned up before manufacturing did. The ISM manufacturing new orders index is usually a good leading economic indicator but in terms of its year to year trends, it is not very useful as a stock market indicator.
ISM made no comment on the impact of Superstorm Sandy on these numbers. I assume it's minimal. These numbers are also the last before the Fed's first settlement of QE3 MBS purchases. That cash began to flow into the economy in the days after November 14-20. I suspect that the beginning of the impact of QE3 may show up in December, and moreso in January.