Event Horizons ~ presented in Market Shadows Newsletter, Bet with the House, Jan. 14, 13
Tax selling in December turned into mutual fund funding in January. A reversal of money flows – not the reason to be bullish. However, we're still on the bullish theme because the Fed is still supplying money to the Primary Bankers. As Lee contends, the Primary Bankers are the "house," the stock market is the casino, and we are counting cards and staying with the house. (The Fed's role in all this? God.)
Courtesy of Lee Adler of the Wall Street Examiner
This story got wide play yesterday afternoon, as the 192 news articles lined above suggest. Some pundits have glommed on to this as being a contrarian sell signal. The truth is that it's just a reversal of the "beat the cliff" tax selling that reached a crescendo in December as the chart below, based on data from the ICI, shows. Their data is a week behind the Lipper data. What Lipper and none of the hysteria stories mentioned was that selling reached a 4 year record high in December, and at $8.2 billion in net outflows for the week ended January 2, was even at a higher rate than the December average of around $6 billion per week.  So I don't put much "stock" in these stories.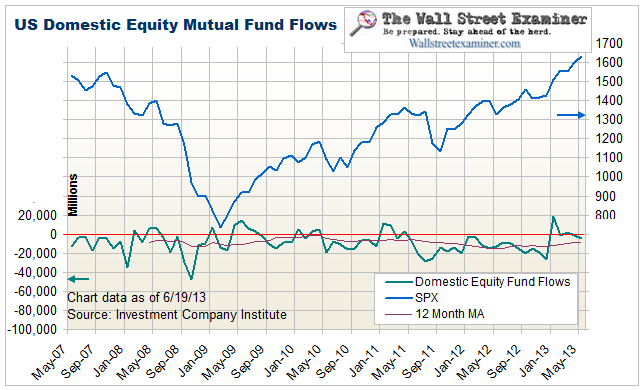 Equity Mutual Fund Flows – Click to enlarge
In fact, the only "sentiment" that matters is Primary Dealer sentiment, and the Fed is stuffing their accounts with $120 billion in cash per month. This is as great as the liquefaction of the Primary Dealers that took place under QE 1 beginning in March 2009, and we know what happened then. So I'm not too worried about this ridiculous story about the surge in mutual fund flows. 
Using that information as a signal for market direction is like looking at the gamblers' betting patterns in the casino for a clue as to who will win and who will lose. Obviously, we already know the answer. The House always wins. In this case the Primary Dealers are the House. They own the casino. They are flush with a tidal wave of cash, and will continue to be flush for months to come. I'll place my bets accordingly. (our emphasis)
Liquidity Indicators
The indicators all still point up, thanks to Fed printing— not just printing, but mammoth, monumental printing that's likely to go on for a while and pulverize, obliterate, every little bear thought that tries to stand in its way. I'll stand by this analysis until something changes, something that I can't see yet.
Last month's Fed meeting minutes contained a veiled threat that maybe QE might end this year, even at mid year, but I think that that was a bluff and a threat in an attempt to keep speculators off the inflation train. It may work for a little while, but so what. And so what if the Fed does stop the insanity at mid year. At the current rate, it would add over $700 billion to the accounts of Primary Dealers by then. Money talks, and talk, even Fed talk, walks.
I would not be surprised to see the Fed forced to end QE in June or July by a surge of inflation. I also wouldn't be surprised to see them continue to print through most of the year. I do think that QE will end, probably this year, but that until it does, the leveraged speculating crowd, both the Primary Dealers and their biggest hedge fund customers, will do what speculators do. They will buy crap.
They will buy whatever crap makes the most sense to them, and they will mark up their inventories until the Fed stops providing them with the wherewithal to do so.
The composite liquidity indicator rose sharply at the end of December/beginning of January as the Fed bought Treasuries on balance, and bank inflows surged. The uptrend in market liquidity is not only firmly in place but it is getting steeper and will continue to do so as a result of the Fed pumping cash into the financial markets. Most of the lesser weighted components have had and should continue to have sympathetic upmoves as Fed cash flows through the system. Stocks should continue to oscillate along and around this wave.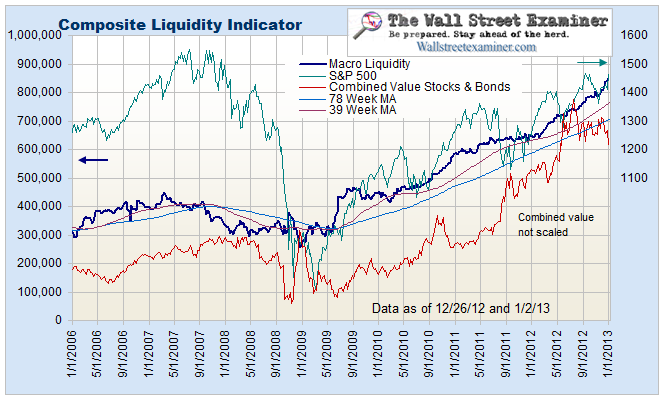 Key bullet points in this week's Wall Street Examiner's Professional Edition:
Treasury supply has been and will continue to be relatively light. There will be enough cash coming from the Fed's Treasury purchases and huge settlement of MBS purchases this week to absorb all new supply and then some.
Settlement of the fiscal cliff removed a temporary psychological blockage to deployment of that cash, lifting stocks. The debt ceiling may play a similar role as we get closer to the deadline.
With sentiment possibly shifting away from bonds, the freed up liquidity could flow toward equities.
Click this link to try WSE's Professional Edition risk free for 30 days!
Copyright © 2012 The Wall Street Examiner. All Rights Reserved. The above may be reposted with attribution and a prominent link to the Wall Street Examiner.
Picture source: imgfave.com via Leslie on Pinterest