Courtesy of Pam Martens.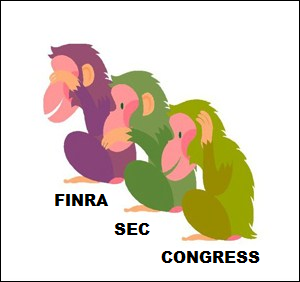 Mary Jo White, the Chair of the Securities and Exchange Commission, will appear before the House Financial Services Committee this morning at 10 a.m. to boast about the past year's accomplishments at the SEC and possibly handle a few queries about the growing public perception that stock markets are rigged.
White's appearance before a Congressional panel comes at a time when the SEC is undergoing a serious discrediting of its oversight of Wall Street. Earlier this month, James Kidney, an SEC trial attorney who retired at the end of March, unleashed a firestorm of negative attention on morale inside the SEC. In a March 27 retirement speech, Kidney criticized upper management for policing "the broken windows on the street level" while ignoring the "penthouse floors." Kidney blamed the demoralization at the agency on its revolving door to Wall Street as the best and brightest "see no place to go in the agency and eventually decide they are just going to get their own ticket to a law firm or corporate job punched." (Retirement Remarks of SEC Attorney, James Kidney (Full Text).)
It also does not help White's credibility that a self-regulatory body overseen by the SEC, the Financial Industry Regulatory Authority (FINRA), has an enforcement chief suffering from foot in mouth disease.
Last week Megan Leonhardt, writing at WealthManagement.com, tipped off the public that J. Bradley Bennett, Executive Vice President of Enforcement at FINRA, suggested that high frequency trading was no different than buying a first class ticket on an airplane. (Both Bradley and White previously worked for big Wall Street go-to law firms: Bradley at Baker Botts, White at Debevoise and Plimpton.)
What exactly is high frequency trading? As thoroughly detailed in the new Michael Lewis book, "Flash Boys," and previously detailed in Wall Street Journal reporter Scott Patterson's book, "Dark Pools," and exquisitely explained for years by the brilliant Eric Hunsader of Nanex, as well as those courageous fellows, Sal Arnuk and Joseph Saluzzi at Themis Trading, high frequency trading is a rigged game where big money buys computer speed, hires physicists and programmers to design ever more complex algorithms and artificial intelligence programs which then ply their wares on U.S. stock exchanges to loot the pockets of ordinary investors.
Here is what is currently happening every day on Wall Street by high frequency traders. See if any part of this sounds to you like simply buying a first class seat on an airplane:
…