Courtesy of Pam Martens.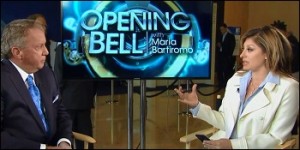 CME Group Executive Chairman Terry Duffy Disputes the Government's Case Against the Flash Crash Trader in an Interview with Maria Bartiromo
Prosecutors from the U.S. Justice Department have already lost their case in the court of public opinion against Navinder Singh Sarao, the man they allege fueled the Flash Crash in the stock market on May 6, 2010, trading from his bedroom in his parents' house in the U.K.
Yesterday, Terry Duffy, Executive Chairman of the CME Group and the man who sits atop the futures market in Chicago where the Justice Department alleges Sarao tricked the market into a collapse, threw cold water on hopes of building this case before a jury. Duffy told Maria Bartiromo the following in an interview on Fox Business News:
"They took Accenture to a penny [Accenture is a stock that trades in New York, not in the futures markets in Chicago]; noone's talking about Accenture going to a penny that day…But yet they're blaming the futures market and the futures market is the only one that gave the data to all the regulators the day of the event. We looked through all this data and it was talked about by the regulators and us that the futures market did not cause this. I testified in Washington, showed how we went down, stopped, with our functionality replenished liquidity and the market kept on trading. They tried to blame Waddell Reed for it now they're going to blame Mr. Sarao for it…"
Sarao is charged by the Justice Department with inflicting carnage through the use of the E-mini, a futures contract based on the Standard and Poor's 500 index. Chicago is one-hour behind New York. The crux of the Justice Department's Flash Crash case against Sarao is this: "Between 12:33 p.m. and 1:45 p.m., Sarao placed 135 sell orders consisting of either 188 or 289 lots, for a total of 32,046 contracts. Sarao canceled 132 of these orders before they could be executed."
Duffy is going to make an excellent witness for the defense. Two weeks after the Flash Crash, Duffy testified before the U.S. Senate that "Total volume in the June E-mini S&P futures on May 6th was 5.7 million contracts, with approximately 1.6 million or 28 per cent transacted during the period from 1 p.m. to 2 p.m. Central Time." That means that between 2 p.m. and 3 p.m. New York time, 1.6 million E-mini contracts traded. Sarao's contracts during that period represented a mere 2 percent of E-mini trades and the majority of his trades were cancelled.
…